Shelta takes great care to emphasise to purchasers that umbrellas should not be left up unattended or in anything more than a mild breeze. Closing the umbrella, tying it against the mast by securing the fabric tie (around the umbrella and mast) takes but a few seconds.
To keep it in new condition, use the protective cover (supplied in the box). Shelta can provide Standard and Delux grade replacement protective covers.
By Nature, the Cantilever design requires a ballast (weight at the base to provide stability). By far the best method of supporting the cantilevered weight is by fixing directly to a reinforced concrete slab. Where this is not practical there are other options that make the umbrella more portable. It should always be noted nothing will be as good as the bolt down method, and all our wind testing is done with that method but if you need your umbrella to be portable remember the more weight you can put into the ballast the better the support will be.
BOLT DOWN TO THE GROUND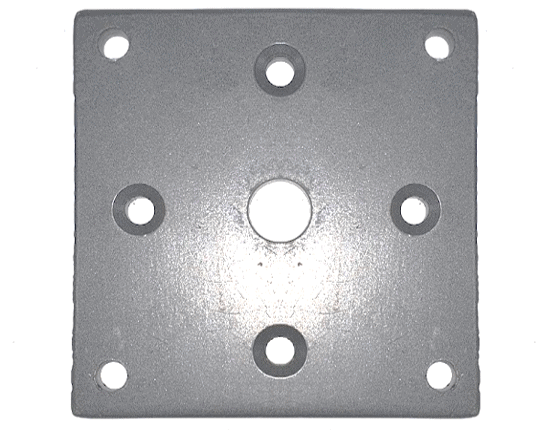 Shelta Australia preferred method of installation and suitable for people who want to install the Shade Umbrella in one fixed location; not move it around.
Please see individual umbrella Instructions for specific requirements.
There is an 18-24cm square "Bolt Down" Plate included in the Larger Cantilever Umbrella carton, and a smaller 16cm round plate in the Smaller Cantilever Umbrella cartons which are bolted to the underside of the umbrella rotate bearing plate.
In turn, this assembly is bolted into pre-drilled holes in concrete using 100 x 8mm (minimum) Locksins, Dynabolts or Chemical bolts – preferably stainless steel for longer life in corrosive environments. Installing in thick (110mm to 120mm) reo bar enforced concrete is vital; in a wind, the umbrella would likely pull out of sandstone or granite paving.
This same plate can be used to mount onto a timber deck however we recommend a builder do the installation or an engineer check the deck for stability prior to installation. DECK-Mounting- pdf
This plate is zinc plated before powder coated but should be checked for any signs of rust and treated or replaced as required. Rust may be accelerated where the Shade Umbrella is located near a Salt, Magnesium or Chlorine swimming pool or in proximity to a beach or saltwater river.
INGROUND BASE (for in Lawn, Garden or new Concrete slab)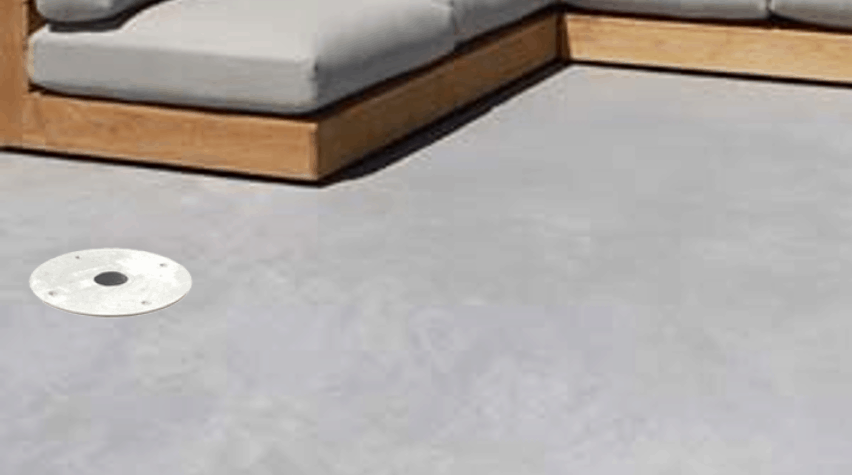 If your purchased Cantilever is part of a renovation or if you want to hide the mounting in the ground or garden, this method might be what you want. You can purchase the inground mounting base from your Shelta stockists. It requires about 7 bags of quickset concrete, full instructions can be downloaded here. Inground-Base-install PDF. It is considered the second most stable way to mount your umbrella.
LARGE WHEELED RESIN BASE
Weighs 130 – 140kg when ballasted with 5-10mm blue metal mixed with sand. Ideal for easy movement of the umbrella around the patio to catch the sun. One foot stroke on the side pedal both extends the 4 wheels for moving or retracts them for locating.
The base bolts onto the underside of the umbrella rotate bearing and raises the umbrella about 22cm.
Recommended for larger Cantilever umbrellas – 350 to 380cm Octagonal, 400 x 300cm Rectangular, and 300 to 330cm Square.
LARGE RESIN BASE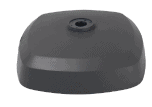 Weighs 115 – 120kg when ballasted with blue metal and/or sand. The base bolts onto the underside of the umbrella rotate bearing plate and raises the umbrella about 20cm.
Recommended for larger Cantilever umbrellas – 350 to 380cm Octagonal, 400 x 300cm Rectangular, and 300 to 330cm Square.
SMALL (4-pc) RESIN BASE
Weighs 100kgs ballasted with sand (recommended), or 80kgs with water. When ballasting with water the base needs to be topped up regularly. Fits over the top of the (included with the umbrella) steel ballast block frame.
Recommended for smaller Cantilever umbrellas – 250 to 280cm Square or 300 to 330cm Octagonal.
Concrete Ballast Weight
At 25 Kilos each, four of these will provide the minimum requirement for most of our smaller range of Cantilever umbrellas. See individual Umbrella instructions for weight requirements and recommendations. They can be stacked two high and still allow operation of the rotate bearing
Resin Stone Ballast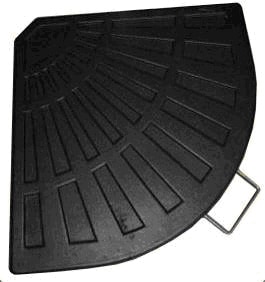 At 16 Kilos each the Resin stone is lighter and easier to move when required. they can be stacked two high and still allow the rotate bearing easy operation.
8 Resin Stones are Recommended for Cantilever umbrellas – 300 to 380cm Square and Octagonal, for larger umbrellas like 400 x 300cm Rectangular, more ballast would be required. See individual Umbrella instructions for weight requirements and recommendations