INSTALLATION
On Concrete "bolt down"
On Concrete "bolt down" – The 25cm round base flange (bottom of the umbrella mast, left) is supplied with the umbrella. It has 4 countersunk securing holes into which 10mm diameter x 100mm long DYNABOLTS, LOCKSINS or CONCRETE SCREWS (to be purchased) can be secured in pre-drilled holes in the concrete.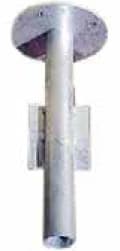 Inground Base
optional purchase (inset above).
for cementing into the ground – length 50cm.